Get To Know Our Locally Owned Business
Our family is here to serve your family
---
With over 10+ years of providing excellent residential heating, air conditioning, and indoor air quality service, repair, and installation, our team can help you stay cool and comfortable in your Sarasota home all year long. 
Founded in 2022, Dylan and his family started Big Bear Heating & Air with aspirations of creating a business that does things the right way, not the easy way. 
We thrive in providing honest, reliable service for homeowners and businesses across the Sarasota area because we believe in offering a best-in-class experience for our customers. 
When you call Big Bear Heating & Air, you aren't going to get high-pressure sales tactics and hidden fees. Instead, you'll get an honest assessment, recommendations that are personalized to you, and service that you simply cannot find anywhere else.
Call Big Bear today at (941) 899-3540 to schedule your service or receive a free estimate.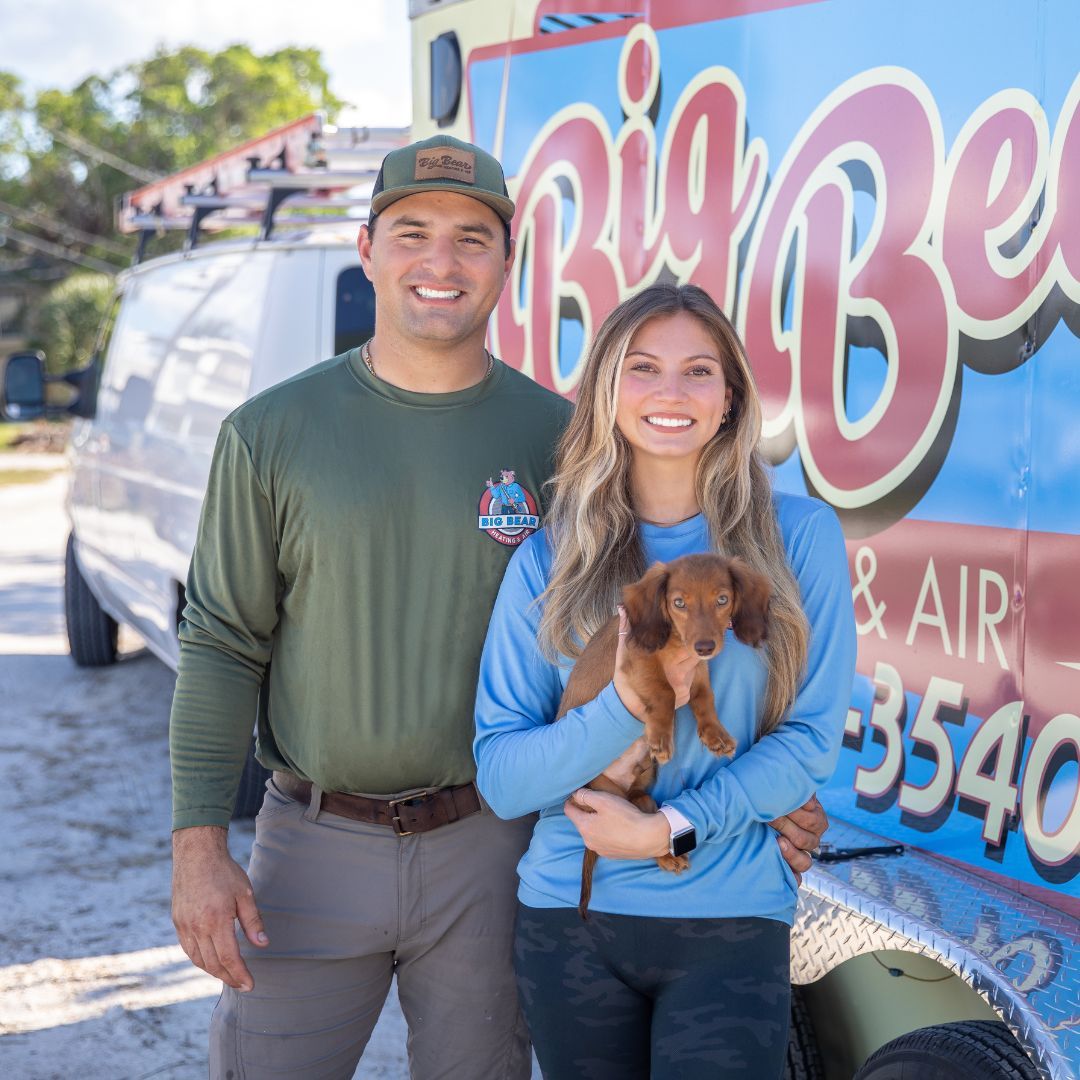 Dylan and his wife Rylee, with their dog Ronny.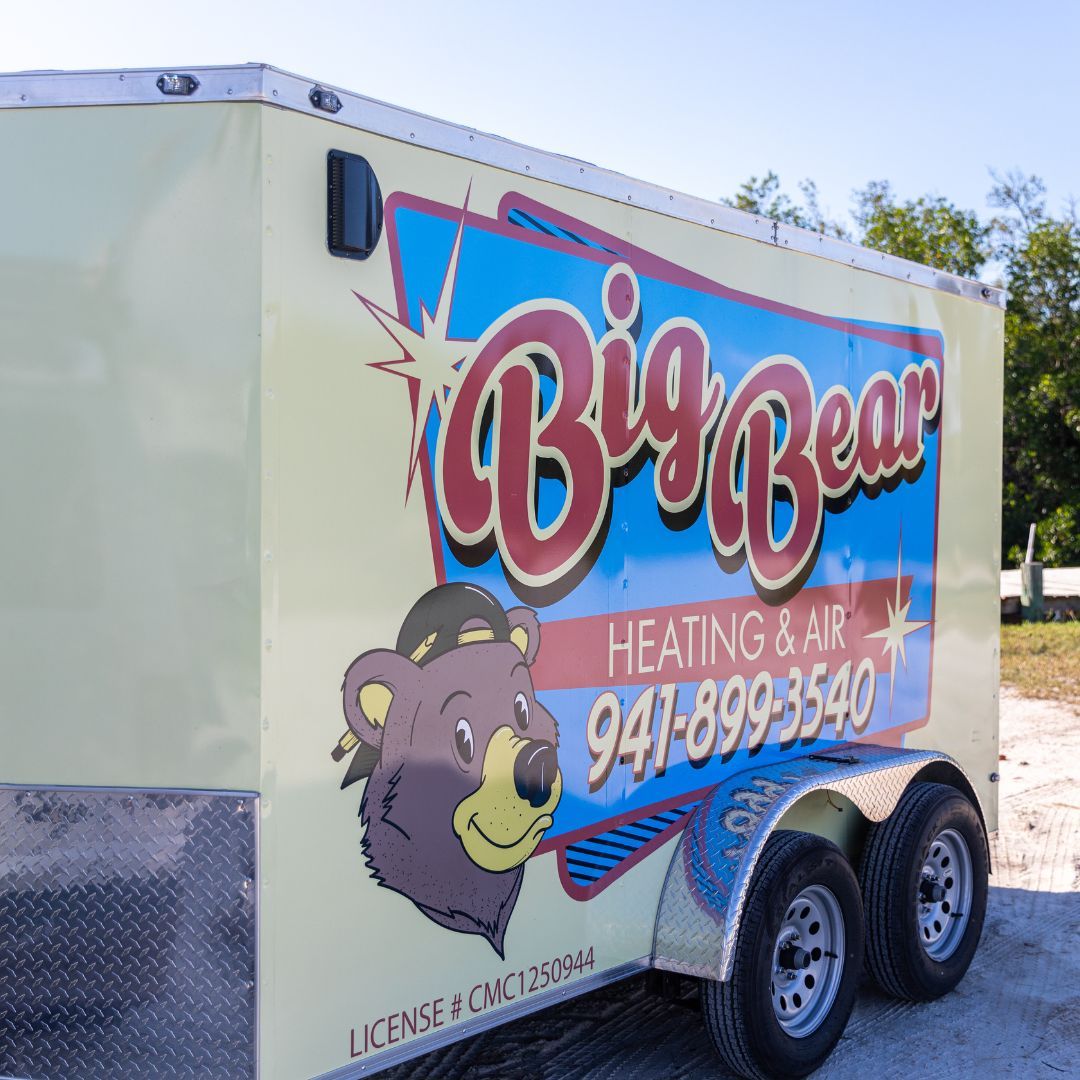 What Makes Big Bear Different?
We know that there are a lot of choices when it comes to finding a reliable heating and air conditioning contractor in Sarasota, FL. But it's important to choose a company that stands behind their work and offers the very best options when it comes to your HVAC repair and replacements.
At Big Bear Heating & Air, we know that earning the trust of our customer is key. In Sarasota, having a working and dependable HVAC system is crucial for maintaining a high quality of life. So when your system isn't working properly, or is inefficient, it can be a major inconvenience. That's why we are here for you 24/7 to provide service with a smile that keeps you and your family comfortable for years to come. 
Not only do we offer maintenance done the right way, we also proudly offer flexible financing options for system upgrades and installations to help remove the financial strain that can come with getting new HVAC equipment in your home. 
Next time you are in need of a second opinion, or are interested in a free estimate for replacement options, give us a call. We promise to do what is right and provide you with the level of service you deserve.
"Dylan did an awesome job installing a new unit on our home. It was done in a timely manner and he was a pleasure to work with. Will use him again!"

"Prompt service. Had an AC issue in the evening and he came over and took care of it immediately. Will be using him for all our rental homes."

"Dylan is a true professional. He is a master of his trade. He is very punctual on getting back to you. Is an excellent diagnostic technician. A troubleshooter. And mostly, very reasonable. Your in 'Good Care' with Big Bear Heating & Air"

"Highly Recommend using Dylan at Big Bear to handle your A/C Installation and Maintenance! He installed a Split Unit at our shop, and our business will continue to use him for our Maintenance on our buildings and we will recommend him to our customers as well."

"I will 100% use Big Bear Heating and Air again. Dylan did a great job with our consultation and evaluation in what we needed done. He installed air purifiers and replaced our blower motor. No issues or call backs since! If i could give more stars i would!"

"Dylan was very professional and did a great job when we lost heat during a cold snap! He keeps us on track with our maintenance and helps us to prevent future breakdowns. I would highly recommend his services for heating and air conditioning."

"Big Bear was great. Got me up and running quickly and sent me options for a new unit within a couple hours."

"Big Bear Air was kind, professional, and prompt at all times! Communication was great throughout the process in addition to following up on any potential issues after installation. Install was smooth and efficient, would hands down recommend!"
Don't Just Take Our Word For It
See what our valued customers are saying!
---
As a homeowner, it's important to call the right company for the job, and that's why we take the appropriate measures to ensure that you're in good hands.